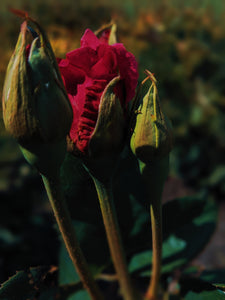 Fairy tale sampler with 13 natural perfumes: Snow White, Sleeping Beauty, Rapunzel, Red Riding Hood, Gretel, Unicorn, Briar Rose, Sea Witch, Rose Red, Witch, Mermaid, Feeding Hansel, and Allerleirauh. Color may vary.

Snow White - ebony iris butter, white lily, blood rose. juicy as a ripe red apple. dark as a deer heart.

Sleeping Beauty - feral in sleep. tangled, musky hair, a honeycomb shroud.

Rapunzel - towering golden sandalwood tresses, jasmine + ylang ylang, chestnut vetiver, tonka.

Red Riding Hood - Turkish rose, Indian oud, bergamot, sugandh kokila, opoponax, fir boughs.

Gretel - not all gingerbread + spice. black forest cake is more lichen for salt lickin + shroom pickin.

Unicorn - white flowers, orange blossom, oakmoss, roots + starfruit.
Briar Rose - rose thorn honey, honey blossom rose, orange honeysuckle, ripe cherries.

Sea Witch - white tropics, tuberose, vanilla Tahiti, coconut-amber-orange, sandal-woods.

Rose Red - Moroccan rose's juicy petals with white sage dust. Lapsang souchong smoke, naga resin, Dominican sage.

Mermaid - seaweed, frangipani, neroli, resins, amber, vanilla Madagascar.
Witch - smoky amber with flecks of iron, ash, metal alloys, and straw.
Feeding Hansel (solid perfume) - swamp cedar, muscatel, quaking aspen bud, blackberries, fire tea, henna, reishi.

Allerleirauh (solid perfume) - Set in my organic lilac enfleurage, Allerleirauh ("All-Kinds-of-Fur" or "Donkeyskin") wraps the princess in all kinds of delicate spring essences to hide her from her father, the incest-driven king. A soft and quiet doe-eyed pelt. At night she sleeps on apricot pillows, a botanical quilt wrapped around her naked flesh. This flowerbed fabric from Russian rose petals and Vermont lilac has been stitched together with French oakmoss. Tucked away inside a white cedar trunk, the only trail she leaves through the air is Donkeyskin, her coat of arms.

Each of the twelve liquid perfumes comes in a 1ml clear glass perfume vial with an applicator cap; the two solid perfumes come in hinge top pods. These are samples of approximately 20-25 drops each, enough for 4-6 wears, per perfume. All vials will have handwritten labels, and they arrive nested inside a gift box filled with flowers, mosses, and plants that I have pressed and dried.
Photo: my organic garden of old roses.

r a w ☽•☾ m a t t e r
Wild Veil natural perfumes are composed by me, Abby, using homemade, wildcrafted and organic aromatics in Vermont. These include my handmade enfleurage, tinctures, enfleurage extraits, absolutes, resinoids and concretes, and floral waxes. I spend as much time growing plants and foraging as I do composing perfumes.

h o w ☽•☾ t o ☽•☾ w e a r
The best way to experience a natural perfume is to apply it to well-moisturized skin, without rubbing in (absorption only shortens the wear time of fragrance) and without scrubbing off. Natural perfumes are dynamic and take a minimum of 2 hours to reach their final stage, or dry down. Enjoy the alchemical changes as they unfold from the initial intensity of top notes, to the warmth of the heart, to the depth of lower base notes.

☽•☾ Wild Veil ☽•☾ alchemy between earth and ether ☽•☾

☽•☾ All aesthetic material copyright Abby Hinsman 2019 ☽•☾