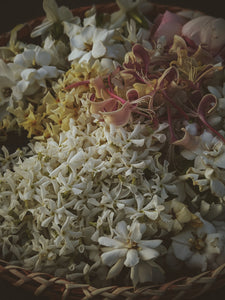 Yeah, you say you don't like florals but is that really true? REAL florals? This is a set designed for people who *think* they don't like florals (but wish they did, or want to get over their floralphobia, or are just floral-curious). Samples of 13 Wild Veil natural perfumes and enfleurage that show you flowers in a whole new light: Saturn Ω, Lilac enfleurage, Gardenia jasminoides enfleurage, Virgo and the Green Cipher, Scorpio, Jungle, Revenant, Nymphs of Naxos, Rose Red, New Orleans, High Priestess, Milk and Honey, and Huntress.
Saturn Ω - Rings around the rosy. Wild white sandalwood (aged). Indian oud. Baked earth attar (mitti). Thick pink lotus and a fruity smear of other decadent florals. Resins, incense, botanical musk, and tonka bean. Beauty in base matter.
Lilac enfleurage - Lilac Enfleurage is a solid perfume made by the simple but labor intensive process of cold enfleurage. The only ingredients are fresh French lilac flowers from my family's 35 year old heirloom Vermont lilacs, organic avocado butter, and very raw beeswax. It is organic and handmade. The scent is exquisite, delicate, and true to fresh lilacs. Enfleurage is the only natural process that can capture the ephemeral scent of blooming lilac. This "pommade" (highly scented solid perfume-- not to be confused with pomade for hair!) consists of thousands of individual organic lilac blossoms that I collected by hand at my home, laid onto an emulsion of organic avocado butter and raw beeswax. I repeat this process each year for 8-10 hours a day during the 2 weeks they bloom to reach a degree of fragrance saturation. A lilac aroma that is true to the flower is notoriously difficult to capture and bottle. As you can see in the photos, I pull off the individual flowers from the panicles (bunches). Removing the stems, branches, and leaves eliminates the swampy scent that some lilac enfleurage has because these green parts have a high water content, little floral aroma, and give off notes of decay when not removed beforehand. This is the most time consuming part of my process but the end result is worth it! In my enfleurage, the lilac scent is floral, green, and airy with sheer notes of apricot, rosewater and orange flower. It is very much the opposite of the shrill, overpowering version of the synthetic floral you find at the fragrance counter. Only you and those closest to you will be able to smell it. It is green sweetness wrapped in pillows of silky butter. Apply to well hydrated skin without rubbing in.
Gardenia jasminoides enfleurage - Every day fresh blossoms are culled and laid on the pommade (plant based fats and waxes), and spent blossoms are removed. This ancient technique is the sole method of scent extraction that captures the entire arc of a flower's headspace, from opening to last breath. Other technologies--tincture, steam distillation, and supercritical co2 extraction-- freeze and capture but a moment in a flower's aromatic evolution. Only enfleurage records the full expression of a blossom's fragrance, with all the nuances of age. Wild Veil is dedicated to enfleurage, and my gardenia jasminoides enfleurage is a deep and powerful way to commune with the flower, with 14 varieties from my gardens contributing their distinct aromas. The result is an organic gardenia solid perfume-- a rarity. Its scent is indulgent, deep, creamy, and languorous. Something more than the sum of jasmine, star jasmine, tuberose, and lily. Enfleurage brings out the intricate wintergreen, mango, and pine back notes of this thick white custard of a flower. Each gardenia cultivar smells unique, with a distinct scent arc. To name a few: Aimee Yoshioka's enormous flowers announce their fragrant presence before you see them. Their quilted white petals are the scent of heaven on earth. Upon opening, the Double Mint has lemons and fresh butter, like lemon curd, then it takes on a fruity peach-jasmine scent that lasts until a pungent musk emerges in its last days. August Beauty is a ripe mango that strangely gets fresher before acquiring a final green mushroom odor. Daisy opens buttery with some of the richness of champaca, expiring in mushroomy indole death. Crown Jewel is a pineapple burst, a hint of apricot patchouli typical of osmanthus. And Tea has a loamy crimini profile undercutting its grand sweet nectar.
Virgo and the Green Cipher - Green musk. The scent of unguent smeared onto skin that has gotten sweaty from lying in the grass under the late August sun. Vegetative chew with ruminant keratin backnote. My organic enfleurage of jasmine tobacco flowers (Nicotiana alata) that I grew from open pollinated seed, blended with the pointed floral odor of fragrant screwpine (Pandanus odorifer), wild tree mosses harvested in the old growth forest at my home, ancient smelling ointment, herbs with a dank musk profile, and my handmade grassy, ammonia-like absolute of the wool from a California ewe.
Scorpio - Ripe white flowers humming at nightfall, drinking in booze, spice, and civet. Only the most luxurious ingredients for the Scorpion, I served this sign a base of my pure star jasmine enfleurage. A cream slab charged a minimum of 36 times by prostrating the tiny white flowers daily upon its surface, for 2 months. Tuberose and kingly gardenia jasminoides speckle the white floral custard. Lily milk, apricots, and a musty dryout. Flower indoles thrum obscenely inside a civet and papyrus drum. Conditioned with cypriol, it wavers between botanical leather stretched across oak, and papyrus pepper. There's balsamic wine from oak wood, and muscatel vapors from green cognac, whose light astringency mingles with three examples of aged dark patchouli: Indian, Indonesian, and Sri Lankan. Bitter chocolate, mentholated leaves, and cloves pipe air through a white flower smothering. Two varieties of wild clove bud from Madagascar and Indonesia drop their warm, spicy, sweetness in, softening civet's skatole without being gourmand. To me, the star jasmine intrinsically releases a musky honeycomb note, so the inclusion of raw beeswax fixes and deepens that chord. Apply to pulse points to enhance the transformative quality of your sign.

Jungle - Like dropping into the green canopy on a silk parachute. Humidity makes the vines sweat. Clouds of white gardenia bulge through folds of enormous, ruffled banana leaves. Spiky palm fronds fan the fruit of spice plants. The white butterfly lily looks dainty but lower on her white flower aroma pulses the divine femininity of wet earth. Jasmine angel wings douse any flesh that passes by with indolic spirals. Carnivorous plants beckon with shapely, lurid beauty. Further below, a jaguar prowls, leaving her musk amidst the clove and coconuts. Skews feminine. Made with my handmade, organic cardamom, clove, and green pepper absolutes, and my organic gardenia, banana champaca, angel wing jasmine, and ginger lily enfleurage.

Revenant - Leather, smoke, brine, orange blossom, spice and velvet. The saltiness of dry distilled resins melts into luscious flowers: indolic jasmine, white lotus, neroli, and champaca. Wild oranges and spices powder botanical leather. Roots, balsams, and resins suspend the blossoms in rich, earthy warmth.

Nymphs of Naxos - Ariadne stranded there under the clear stars of Naxos, those tutors to Dionysus. She woke up alone with her strand, weaving toward Crete in the blue-black water, and remembered the journey with Theseus. Theseus was gone. Going away was his thing. Another cord cut, the thread un-taut. She chucked that shitty reishi ring into the sea and welcomed Dionysus, who brought her a bridal diadem, fertile with sculptural jasmine, peonies, ruby bilberries, and white and blue sapphire hyacinths. The Rainy Ones taught her about wine and pampered her with sea weed wraps. She tried to forget about Theseus. Maybe she was just supposed to be a guide? But the bull was inside her now, seeing red and not seeing the way out clearly. So she imprisoned him in the maze. In anger Ariadne sprayed sea water into the night sky, forming the Corona Borealis. The Nymphs of Naxos donated blue plants and berries so she could dye the redness into purple.
Handmade tinctures, absolutes and enfleurage of:
☽ wakame, bilberry, blue tansy, palo santo
☽ hyacinth, peony, neroli, yuncui jasmine tea, linden blossom
☽ arborvitae, fir balsam, black spruce
Nymphs of Naxos // The Rainy Ones is a solid perfume. It is part of my Minotaur series, which includes: Hollow Sow, Daedalus the Architect, The Minotaur Path, Ariadne had a Clew, The Maze is Inside the Maze, Splitting, Theseus the Betrayer, Alone with Dionysus, and Nymphs of Naxos (The Rainy Ones).

Rose Red - Woodland musk. A wild fairy tale both delicate and primal. Moroccan rose petals drowsy with white sage dust, harvest honey, and lapsang souchong smoke. Naga resin, patchouli and candelabra sage haunt the castle. Rose Red is part of my fairy tale series: Sleeping Beauty, Red Riding Hood, Witch, Allerleirauh, Snow White, Bluebeard's Wife, Rapunzel, Gretel, Rose Red, Briar Rose, Mermaid, Feeding Hansel, Unicorn, and Sea Witch.
New Orleans - The Garden District. Hot, humid honeysuckle. Gentle white frills release narcotic waves of gardenia. Glossy dark magnolia leaves shimmer in the street + moon lights. Cedar wood soil crushed by leather shoes, cognac, tobacco, oak, and Spanish moss.

High Priestess - Regal, ethereal and earthy. My most precious florals betrothed to the darkest musks. High Priestess is an organic tarot perfume with light and dark elements, spiritual and worldly. Vested in sensual Shakti abundance. This is a fragrant tantra, a womanly initiation. Feline and floral.

Milk and Honey - Sweet milk cream and honeysuckle on vanilla-benzoin resin. Delicious curls of vetiver smoke from three varieties-- Indonesian, Sri Lankan, and Haitian-- ascend from the base. The dry down is honeyed, floral, and gourmand. Lively honeysuckle flowers appear in the form of my handmade organic absolute of my 100x Vermont honeysuckle enfleurage. Honey blooms swim in the bright, floral fruitiness of Tahitian vanilla mixed with the darker, ripe caramel of Madagascar vanilla. In the dry down it becomes an intimate, smoky sponge cake of a skin scent.

Huntress - The moon's wild herb garden. Alien, giant trees. Precious green woods, holy incense, and wet earth. Limpid rosewood, ethereal palo santo, earthy clary sage, vegetal spinach leaf, juicy vetiver, and floral straw. Caraway seed contributes heart-opening warmth. Red champaca and linden blossom give their powdery nectar to a lush paradise. Channels Artemis, goddess of the hunt, animals, forests, and the lunar wilderness.

Each liquid perfume comes in a 1ml clear glass perfume vial with an applicator cap. The solid fragrances come in hinge top pods. These are samples of approximately 20-25 drops, enough for 4-6 wears, per perfume. All scents will have labels with my handwriting and art, and they arrive nested inside a gift box filled with flowers, mosses, and plants that I have pressed and dried.
Photo: fresh flowers collected for enfleurage from the Wild Veil perfume gardens.

r a w ☽•☾ m a t t e r
Wild Veil natural perfumes are composed by me, Abby, using homemade, wildcrafted and organic aromatics in Vermont. These include my handmade enfleurage, tinctures, enfleurage extraits, absolutes, resinoids and concretes, and floral waxes. I spend as much time growing plants and foraging as I do composing perfumes.

l i q u i d ☽•☾
Wild Veil oil perfumes are suspended in an odorless base of organic MCT coconut oil. As they do not contain water, liquid perfumes do not expire, and may improve with age. While the volatile top notes (the ones that hit your nose first) will fade after a year or more, the base and heart notes will deepen and grow more complex.

s o l i d ☽•☾ b e e s w a x
In solid perfumes this silky transparent base (above) mingles beautifully with the earthy, honey musk of organic beeswax. Raw beeswax traps the aroma molecules, releasing them over time for an intimate experience.

h o w ☽•☾ t o ☽•☾ w e a r
The best way to experience a natural perfume is to apply it to well-moisturized skin, without rubbing in (absorption only shortens the wear time of fragrance) and without scrubbing off. Natural perfumes are dynamic and take a minimum of 2 hours to reach their final stage, or dry down. Enjoy the alchemical changes as they unfold from the initial intensity of top notes, to the warmth of the heart, to the depth of lower base notes.

☽•☾ Wild Veil ☽•☾ alchemy between earth and ether ☽•☾

☽•☾ All aesthetic material copyright Abby Hinsman 2023 ☽•☾