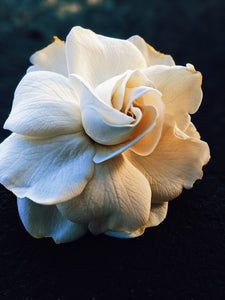 Gift set sampler with my 17 favorite natural perfumes: Samhain, Feeding Hansel, Red Riding Hood, The Maze is Inside the Maze, 2020 Hindsight, Fire Opal, Star, Splitting, Cottonmouth, Yellow Musk, Milk Oolong Gardenia, Allerleirauh, Sacred Terrestrial, Everlasting, Lotus Musk Attar, Chocolate Banana Cream Pie, and Scorpio.
Samhain (solid) - Autumnal ritual in the witches' forest. Foliage turned to ash. Pass the hag pipe. Hurly burley tobacco smell from cured leaf. Packed into lacquered wood. Joints rolled from honey paper, sealed with foraged fir goop and honeybee musk. Smoky amber resins, incense enfleurage, cloven spices and botanical musk. Moonshine tea: rum, lapsang souchong, oak barrels.
Feeding Hansel (solid) - He asked the witch if he could stay: her cottage was quiet, warm, and deep. Wanting to lose his way, Hansel fed on the edible forest. He picked wild blackberries and sipped her tea, smoked by the swamp cedar logs. They ate wild fungi and made muscatel moonshine from the fen. However, without noticing he was changing, suspicion crept in like twilight. Hansel started to believe the witch was poisoning him. What had been to him her creature comforts twisted into a source of terror as he wondered if all that was delightful was actually deadly. Feeding Hansel is a botanical, solid perfume from handmade absolutes and resinoids, including: swamp cedar, muscatel, wild balsam poplar bud, wild eastern cottonwood bud, wild quaking aspen bud, blackberries, spices, incense, smoke tea, mountain tears, henna attar, boreal reishi.
Red Riding Hood - Rosy, musky, herbal oud. Rose red hood, wolf wood, dark woods. Anatolian rose's antique papery edges are flanked by Haitian vetiver's rosy grass. Beneath is a dark, complicated Indian oud: mold, herbs, and fermented cheese underscore the savory, cool beauty of Turkish rose. This wolf in rosy clothing is vegan. A strong bite.
The Maze is Inside the Maze - Babies from my old growth forest: fir tips, white pine cones, and black spruce boughs. Spring white pine resin and cruelty free high lanolin fleece. Amber and cured American Virginia flue tobacco (organic). Part of my Minotaur series.
2020 Hindsight - A nose-expanding gender neutral fragrance set in organic alcohol. Its arid, animalic hind quarters go swish-swish, roaming milk grass slopes of the Alishan Mountains. On the other side of the pass basins fry low slung succulent flesh under the desert sun. Antigone will identify this vegetable carrion on the outskirts of town. Heart opening botanicals autopsy the chest. Be careful your jubilant rose colored glasses will mesmerize you like Mabuse's eyes. With wild Borneo camphor, dittany of Crete (organic, grown by the perfumer from wild seeds), wild larch boughs (Vermont, harvested by the perfumer), wild Soqotra frankincense, organic Jin Xuan milk oolong from the Alishan mountains, damask roses (organic, grown by perfumer), wild Namibian desert succulents, and cruelty free animalics.
Fire Opal - Not for the faint of heart, Fire Opal is an avant-garde umami perfume centered upon the idea of ocean terroir, featuring fungi, savory-sweet notes, dégoût, and sea foam. Shimmering sea weeds and tropical woods plummet to bloomy cèpes depths. Tinctures of kombu, sea oak, and Irish moss showcase the ocean terroir of each. Kombu is saltwater and kelp shallows, sashimi shimmy. Iris moss is a cedar chest, leather, and ancient marine green. Sea oak is tannic fertilized algae eggs. Wet seashells mirror the crumpled husks of long and white pepper. Shiitake and penny bun sketch not the forest floor, but chlorine, yeast, dirt, and beef broth. Rosy, grassy jamarosa root overgrows a santal heart teeming with balsams, resins and saffron. Musk mallow and myrrh ointment twist through a precious woods and fungi dry down. Fire Opal features my 2 year tinctures of cured peppers, various seaweeds, and mushrooms.
Star - White floral meat. Gardenia jasminoides supernova. A dark eruption that smells like castoreum where there is none. Fig phantoms. A galaxy of incense. Musk per se, iris butter and amber solder to dark star gardenia, a scent like no other's. Orbiting a milky way along black labdanum's saline starlight and blackened brush. Smells like my childhood but dangerous. The solipsistic birth of the universe. Cosmic newborn, a beautiful alien in outer space. Otherworldly dreams, celestial wishes. Aquarius, Saturn, Neptune, Egyptian goddesses Isis (nature and magic) and Nwt (sky). A composition from my own extractions, based in organic alcohol.
Splitting - Spicy and soft, sweet and savory, ethereal and musky, light and dark, Splitting is part of my Minotaur series. With wild white copal from Mexico, black and white peppercorn, black and white Hojari (wild, Oman), Pu-erh Mini Tuo Cha Tea with glutinous rice aroma from Menghai, white jasmine rice from Thailand, and black musk attar from Kannauj. Splitting is a gender neutral fragrance set in organic alcohol.
Cottonmouth - The hiss of a southeastern pit viper. Cottonmouth is a semiaquatic gender neutral fragrance set in organic alcohol with white and green cognac, Thai jasmine rice, cruelty free tincture of unwashed black bellwether's wool by perfumer, lapsang souchong, wild Indian frankincense, damask roses (organic, grown by perfumer), wild Namibian Sarcaucolon mossamedense, hina oudhi attar from Kannauj, and cruelty free wild Karoo rock musk.
Yellow Musk (solid) - Narcissus || Jonquil enfleurage + Indian oud + Moroccan rose + Tahitian vanilla + Siberian tonquin + Australian sandalwood. My custard flower enfleurage is the creamy base. Remember the smell of cabbage patch dolls' skin? This is that vanilla in the best way, with Tahitian vanilla SCO2 enriching narcissus's floral pudding. Honey powder and baby skin. A cow chewing sweetgrass cud in a vanilla garden, surrounded by vanilla orchids and vanilla sprouts. There is egg custard made with real butterfat. The scent of that milky skin on just cooked custard. Crème anglaise swirled with the brett, lanolin alchemy of old stock Siberian tonquin and Indian oud SCO2. Jonquilla appears in the form of a tuberose buttercup with a green leaf back note adorning honeycomb genoise sprinkled with jonquil's pollen the color of egg yolk. Moroccan rose petals scatter. This rosa damascena absolute has pear, brandy, and cool framboise overtones. A fruit orchard at sunset, sheep footprints in the grooved mud. The texture is satin butter. Sweet pastry cream with the fromage bloom of sheep's milk.
Milk Oolong Gardenia (solid) - Milk oolong from Taiwan and raw Ohio honeycomb that I absoluted, with blood orange, set in my enfleurage of midsummer gardenias. The milky oolong absolute is saline and grassy, with unique milky, fruity qualities. I have three stages of gardenia enfleurage: early summer, midsummer, and late summer/autumn. The midsummer creation is heavenly clouds of sweet cream, with the early summer being the fruitiest, and the autumnal being lushly somnolent. You can almost taste the fat petals at dusk, still thrumming with July sunshine. Chartreuse in hue, this cream perfume readily absorbs into the skin.
Allerleirauh (solid) - Set in my organic enfleurage of Vermont lilac, Allerleirauh ("All-Kinds-of-Fur" or "Donkeyskin") wraps the princess in all kinds of delicate spring essences to hide her from her father, the incest-driven king. A soft and quiet doe-eyed pelt. At night she sleeps on apricot pillows, a botanical quilt wrapped around her naked flesh. This flowerbed fabric from Russian rose petals and Vermont lilac has been stitched together with French oakmoss. Tucked away inside a white cedar trunk, the only trail she leaves through the air is Allerleirauh, her coat of arms.
Sacred Terrestrial - Warm-spicy, musky, precious woods/oud. Dry musk. Skews masculine with a touch of sweetness.
Everlasting - Alchemical celebration of honeyed, intensely intoxicating helichrysum (immortelle, or everlasting). An edible romance with a heart of rose, palo santo, vetiver, and vanilla Madagascar. Ecuadoran holy wood palo santo bonds with euphoric and herbal clary sage in the heights. Soft sandalwood and tea-like Brazilian rosewood branch through a resinous base of green moss, amber, and labdanum powder. Floral wood, vanilla earth, moss, resinous powder, and incense waft through a tropical forest at dusk.
Lotus Musk Attar - Pink lotus and agarwood blend into rounded ambergris-like magic. The champa, myrrh, agarwood, and sandalwood in some of my favorite fragrant Indian and Tibetan incense inspired Lotus Musk, a traditional attar, handmade and aged for three years. Fifteen aromatics distilled from herbs, resins, roots, and wood, developed complexity over time as their sandalwood base unified around the unique alchemy of pink lotus and agarwood. An amber musk imparts resinous warmth during the tenacious and long-lasting dry down.
Chocolate Banana Cream Pie (solid) - Banana custard with a vanilla-chocolate crust. It features my organic absolutes from long term tinctures of: red and Cavendish bananas, Mexican vanilla beans, and raw whole cacao beans from Peru. The filling is set with my late summer gardenia enfleurage, the most gourmand gardenia flush, and raw beeswax.
Scorpio (solid) - Ripe white flowers humming at nightfall, drinking in booze, spice, and civet. Only the most luxurious ingredients for the Scorpion, I served this sign a base of my pure star jasmine enfleurage. Avocado butter charged a minimum of 36 times by prostrating the tiny white flowers daily upon its surface, for 2 months. Tuberose and kingly gardenia grandiflora speckle the white floral custard. Lily milk, apricots, and a musty dryout. Flower indoles thrum obscenely inside a civet and papyrus drum. Conditioned with cypriol, it wavers between botanical leather stretched across oak, and papyrus pepper. There's balsamic wine from oak wood, and muscatel vapors from green cognac, whose light astringency mingles with three examples of aged dark patchouli: Indian, Indonesian, and Sri Lankan. Bitter chocolate, mentholated leaves, and cloves pipe air through a white flower smothering. Two varieties of wild clove bud from Madagascar and Indonesia drop their warm, spicy, sweetness in, softening civet's skatole without being gourmand. To me, the star jasmine intrinsically releases a musky honeycomb note, so including raw beeswax fixes and deepens that chord.
Each liquid perfume comes in a 1ml clear glass perfume vial with an applicator cap. 1ml of each solid perfume comes in a hinge top pod. This is a sample of approximately 20-25 drops, enough for 4-6 wears, per perfume. All perfumes will have handwritten labels, and they arrive nested inside a gift box filled with flowers, mosses, and plants that I have pressed and dried. 
Photo: saucer sized Aimee Yoshioka gardenia from my organic perfume gardens.

r a w ☽•☾ m a t t e r
Wild Veil natural perfumes are composed by me, Abby, using homemade, wildcrafted and organic aromatics in Vermont. These include my handmade enfleurage, tinctures, enfleurage extraits, absolutes, resinoids and concretes, and floral waxes. I spend as much time growing plants and foraging as I do composing perfumes.

l i q u i d ☽•☾
Wild Veil oil perfumes are suspended in an odorless base of organic MCT coconut oil. As they do not contain water, liquid perfumes do not expire, and may improve with age. While the volatile top notes (the ones that hit your nose first) will fade after a year or more, the base and heart notes will deepen and grow more complex.

s o l i d ☽•☾ b e e s w a x
In solid perfumes this silky transparent base (above) mingles beautifully with the earthy, honey musk of organic beeswax. Raw beeswax traps the aroma molecules, releasing them over time for an intimate experience.

h o w ☽•☾ t o ☽•☾ w e a r
The best way to experience a natural perfume is to apply it to well-moisturized skin, without rubbing in (absorption only shortens the wear time of fragrance) and without scrubbing off. Natural perfumes are dynamic and take a minimum of 2 hours to reach their final stage, or dry down. Enjoy the alchemical changes as they unfold from the initial intensity of top notes, to the warmth of the heart, to the depth of lower base notes.

☽•☾ Wild Veil ☽•☾ alchemy between earth and ether ☽•☾

☽•☾ All aesthetic material copyright Abby Hinsman 2019 ☽•☾