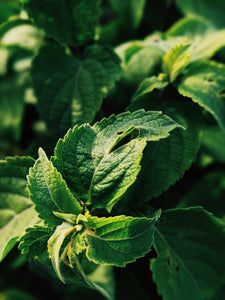 Gender neutral bestsellers: sample set of 6 Wild Veil natural fragrances: Taurus Moon, Octopus, Big Sur, The Dunes, October, Black Fox. Color may vary.
Taurus Moon - warm spicy, woodsy, animalic, musk.
Octopus - Kauai vetiver + petrichor.
Big Sur -Douglas fir, seaweed, palo santo, white sage, orange groves.
The Dunes - cactus flowers, sun-baked wood, sage, lavender, camphor.
October - the woods in October.
Black Fox - black amber fougère with brisk camphor fur.
Each natural perfume comes in a 1ml clear glass perfume vial with an applicator cap. This is a sample of approximately 20-25 drops, enough for 4-6 wears, per perfume. All six vials will have handwritten labels, and they arrive nested inside a gift box filled with flowers, mosses, and plants that I have pressed and dried. Include any gift message to the recipient in the "note to seller" when ordering, and I will hand write your message.
Photo: African tree basil which I grew from open pollinated seed in my organic herb garden.

r a w ☽•☾ m a t t e r
Wild Veil natural perfumes are composed by me, Abby, using homemade, wildcrafted and organic aromatics in Vermont. These include my handmade enfleurage, tinctures, enfleurage extraits, absolutes, resinoids and concretes, and floral waxes. I spend as much time growing plants and foraging as I do composing perfumes.

l i q u i d ☽•☾
Wild Veil oil perfumes are suspended in an odorless base of organic MCT coconut oil. As they do not contain water, liquid perfumes do not expire, and may improve with age. While the volatile top notes (the ones that hit your nose first) will fade after a year or more, the base and heart notes will deepen and grow more complex.

s o l i d ☽•☾ b e e s w a x
In solid perfumes this silky transparent base (above) mingles beautifully with the earthy, honey musk of organic beeswax. Raw beeswax traps the aroma molecules, releasing them over time for an intimate experience.

h o w ☽•☾ t o ☽•☾ w e a r
The best way to experience a natural perfume is to apply it to well-moisturized skin, without rubbing in (absorption only shortens the wear time of fragrance) and without scrubbing off. Natural perfumes are dynamic and take a minimum of 2 hours to reach their final stage, or dry down. Enjoy the alchemical changes as they unfold from the initial intensity of top notes, to the warmth of the heart, to the depth of lower base notes.

☽•☾ Wild Veil ☽•☾ alchemy between earth and ether ☽•☾

☽•☾ All aesthetic material copyright Abby Hinsman 2019 ☽•☾