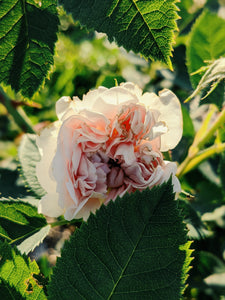 Gift set sampler with 6 of my bestselling natural perfumes for women: Bastet, Lotus Musk Attar, Hothouse, Hecate, Star, and Skin: Feminine. Color may vary.

Bastet - Egyptian temple perfume inspired by Bast, goddess of cats and perfume. Mysterious, ancient palm fronds fan the goddess. From an alabaster urn she scoops out a hunk of black, sticky incense spun with crushed spices, honey wine, currants, figs, mossy tendrils, mint, sweet fir, and balsams imported from the Horn of Africa. Precious woods-- oud and boozy poplar-- coated in a sweet varnish, spearmint, and cinnamon dusted bread rise off of the sticky black cube as it begins to smoke. If kohl were candlewax, it would produce this warm, buttery, black glow. Inky, creamy, iconic. Saffron makes pungent stabs but melts into adipose petals of rosy honeycomb. Pine needle boughs brush the air. A soft rush, heart of fir set in dark paste. Cloves run wild. Pastilles of perfumed wax melt on your temples, dripping onto bare shoulders and feet pounding the temple stone to dust. Temple to temple, dust to dust. Bastet lingers in rich and spicy relief on a trail of cooling, licked skin like a scented fingerprint from a long-lost ritual.

Lotus Musk Attar - Pink lotus and agarwood blend into rounded ambergris-like magic. The champa, myrrh, agarwood, and sandalwood in some of my favorite fragrant Indian and Tibetan incense inspired Lotus Musk, a traditional attar, handmade and aged for three years. Fifteen aromatics distilled from herbs, resins, roots, and wood, developed complexity over time as their sandalwood base unified around the unique alchemy of pink lotus and agarwood. An amber musk imparts resinous warmth during the tenacious and long-lasting dry down.

Hothouse - Attack of the white floral flesh. Tuberose soliflore with an exotic amber base. A coconut zephyr winds through humid tropical nectar from white waxy flowers. Indolic jasmine, creamy cananga, and canary yellow ylang ylang surround lush, unfettered tuberose. Green galbanum and warm spices speckle a Tahitian vanilla base with gooey balsams.

Hecate -Like the titular sorceress who often appears tripled, is a changeable but powerful botanical fragrance with outstanding tenacity for a natural blend. The heady aroma of herbs and camphor charges forth at first breath-- a wreath of lemon, rosemary, and surprising eucalyptus. After fifteen minutes to an hour these sharper notes stop writhing, and settle onto a cedar forest floor amidst glowing coals of myrrh and incense. The cedar is incredibly deep, a magical wood loom of sweet white, floral Himalayan, and furry Atlas. As cloven hooves tromp across pads of basil, delicate anise oil gets squeezed from the green velvet. In the dry down that lasts and lasts (more than a day, on my skin and clothing), Hecate becomes a smoky, earthy amber, but no less unusual, perfume. A winding, dark road of patchouli, labdanum, tonka, and leather lead into an everlasting frankincense night.

Star - White floral meat. Gardenia jasminoides supernova. A dark eruption that smells like castoreum where there is none. Fig phantoms. A galaxy of incense. Musk per se, iris butter and amber solder to dark star gardenia, a scent like no other's. Orbiting a milky way along black labdanum's saline starlight and blackened brush. Smells like my childhood but dangerous. The solipsistic birth of the universe. Cosmic newborn, a beautiful alien in outer space. Otherworldly dreams, celestial wishes. Aquarius, Saturn, Neptune, Egyptian goddesses Isis (nature and magic) and Nwt (sky). A composition from my own extractions, based in organic alcohol.

Skin: Feminine - Honey-vanilla-molasses-rose skin notes: rose water dried on a sun tan. Feminine skin notes radiating from an intense golden elixir. This perfume will smell different on everyone, amplifying your own unique skin scent. With very little to no top note, Skin is intended to bloom with subtlety like the gradual heat rising off of skin as it's warmed by the sun. This is not to say it is an "amber musk." It rolls through tropical humidity, dry musk, and the ineffable aroma of a body coming in from the outside. Although Skin has longevity unusual in a natural perfume, it's not a big projector. Intimate but elusive, like the scent of skin on the brink of perspiration, the breath of a suntan, or the perfume of a lover's neck.
 
Each natural perfume comes in a 1ml clear glass perfume vial with an applicator cap. This is a sample of approximately 20-25 drops, enough for 4-6 wears, per perfume. All six vials will have handwritten labels, and they arrive nested inside a gift box filled with flowers, mosses, and plants that I have pressed and dried.
Photo: Alba rose in my organic rose gardens.
r a w ☽•☾ m a t t e r
Wild Veil natural perfumes are composed by me, Abby, using homemade, wildcrafted and organic aromatics in Vermont. These include my handmade enfleurage, tinctures, enfleurage extraits, absolutes, resinoids and concretes, and floral waxes. I spend as much time growing plants and foraging as I do composing perfumes.

l i q u i d ☽•☾
Wild Veil oil perfumes are suspended in an odorless base of organic MCT coconut oil. As they do not contain water, liquid perfumes do not expire, and may improve with age. While the volatile top notes (the ones that hit your nose first) will fade after a year or more, the base and heart notes will deepen and grow more complex.

s o l i d ☽•☾ b e e s w a x
In solid perfumes this silky transparent base (above) mingles beautifully with the earthy, honey musk of organic beeswax. Raw beeswax traps the aroma molecules, releasing them over time for an intimate experience.

h o w ☽•☾ t o ☽•☾ w e a r
The best way to experience a natural perfume is to apply it to well-moisturized skin, without rubbing in (absorption only shortens the wear time of fragrance) and without scrubbing off. Natural perfumes are dynamic and take a minimum of 2 hours to reach their final stage, or dry down. Enjoy the alchemical changes as they unfold from the initial intensity of top notes, to the warmth of the heart, to the depth of lower base notes.

☽•☾ Wild Veil ☽•☾ alchemy between earth and ether ☽•☾

☽•☾ All aesthetic material copyright Abby Hinsman 2019 ☽•☾